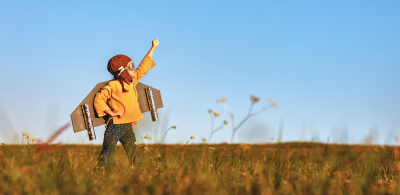 Social Responsibility at VEKA
Commitment & achievements
Environment, education, social concerns or culture - the VEKA Group companies and their employees are involved in these areas in many different ways in and around their locations. All these projects share one common goal: to improve the quality of life for the local population.
In addition, we want to raise awareness and educate on the topics of climate protection and sustainability. Because our commitment starts at the very beginning.
Group-wide education & awareness
Small Gases - Big Effect: This is Climate Change
One of the biggest problems of our time is the climate change. But does it exist at all?
We cannot smell, see or taste the greenhouse gases in the air. Their effect only becomes visible and noticable years later, which is why we do not feel any direct impact today. Therefore, it is even more important, that we understand, how climate change works and what its consequences are.
Using the book "Small Gases - Big effects: The Climate Change," we want to make a contribution to the education about climate change. We want to encourage people to start thinking and acting. Because our commitment starts at the very beginning.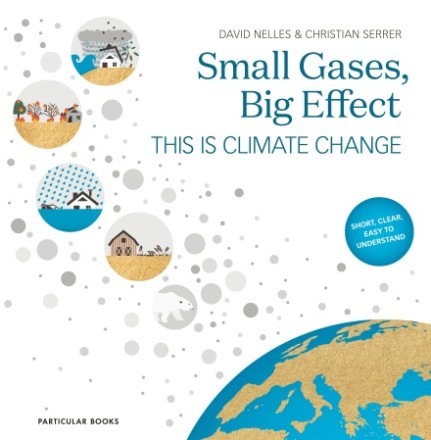 The Book on Climate Change
In order to draw attention to the importance of the topic, to educate and to shape an environmentally friendly future, we are currently distributing a copy of the climate change book to the employees of the VEKA Group.
In the global debate about climate change, one can easily lose sight of the big picture. The Book on Climate Change provides profound answers to the most important questions: Is there a climate change? Is the climate change human-made? What effects does the climate change have on our health?
The book conveys in the shortest possible time what climate change is and what its consequences are. Short texts and clear illustrations make a complex topic understandable and easier to follow.
visit the German website
Individualized back cover of the climate change book (in German)
Activities & achievements: Society and social issues
Social engagement has many faces
Within the VEKA Group, we are committed to corporate development that is future-friendly. In the past, we have already been able to celebrate many successes in the area of CSR. In addition to ecological and economic savings, this also includes a commitment in the social are and local communities.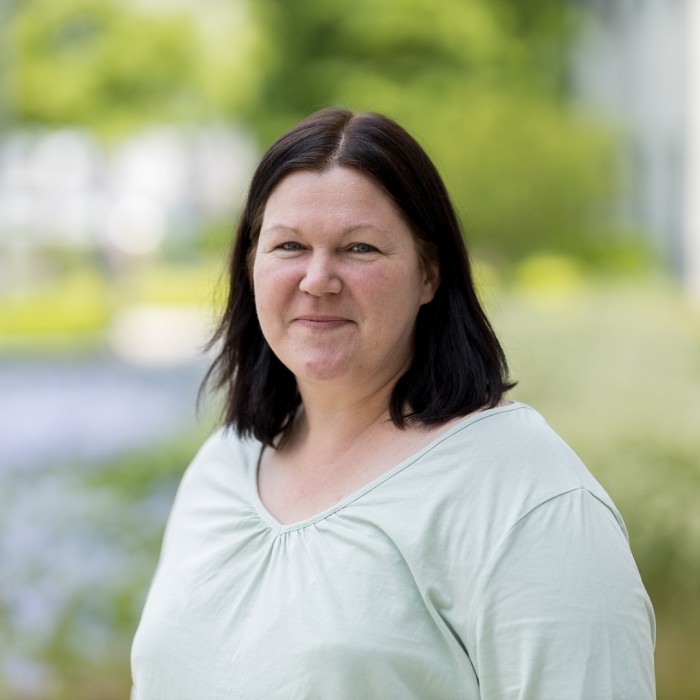 Activities & achievements: Environment
Green thinking and acting
Thinking green means thinking about your own behaviour and the impact on the environment with the aim of improving the lives of all by your own actions. This is something that not only every individual can do, but also we as a globally active group of companies. For this reason, we attach great importance to the sustainable use of the world's resources and are committed to a fututre-friendly development of our company.
Whether it is more efficient drive technology in production, energy-saving lighting or heat recovery, we've reduced energy consumption in many places at VEKA over the recent years. With success: in total, our energy consumption during extrusion has decreased by around 50 percent since 2005.
Extrusion is a process for shaping thermoplastics, among other things. In this process, the palstic is pushed through a form-giving mold as a tough mass under high pressure and at a high temperature. We are producing our profiles and PVC products by means of this process.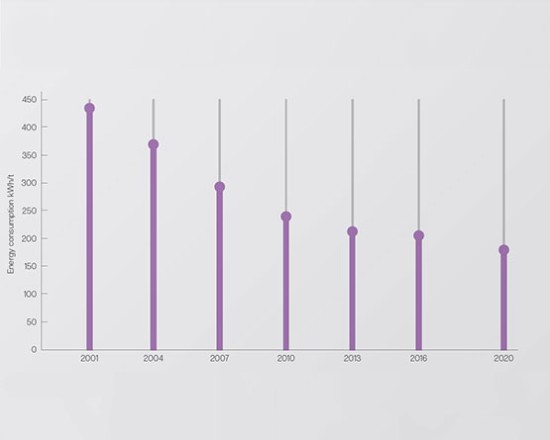 Energy consumption (in kWh/t) in extrusion at VEKA in Sendenhorst
Activities & achievements: Company and products
Sustainable building products for a sustainable future
At VEKA, acting in a resource- and climate-friendly manner encompasses all stages of the value chain - from energy and water consumption to the use of long-lasting materials and the recycling of discarded products. As a pioneer in the industry, we introduced the closed recycling loop already in 1993 - entirely in the sense of a holistic circular economy.
learn more about circular economy