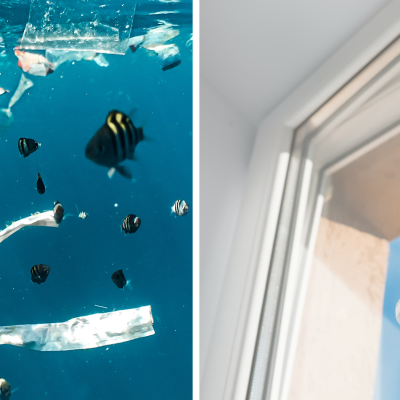 How sustainable can plastic be?
Different types of plastic
Not all plastics are the same
Plastic is encountered by billions of people in everyday life and is also used extensively by industry. So it comes as no surprise that more than 400 million tonnes of plastic are produced worldwide every year. But what exactly is plastic?
Originally, the term plastic referred to a group of materials of synthetic origin, the so-called polymers. Plastic is produced through polymerisation, i.e. a sequence of chemical reactions from organic raw materials. The organic raw materials are mainly natural gas and fossil oil. Through various forms of polymerisation, plastics with variable properties can be produced: soft or hard, transparent or non-transparent, solid or flexible.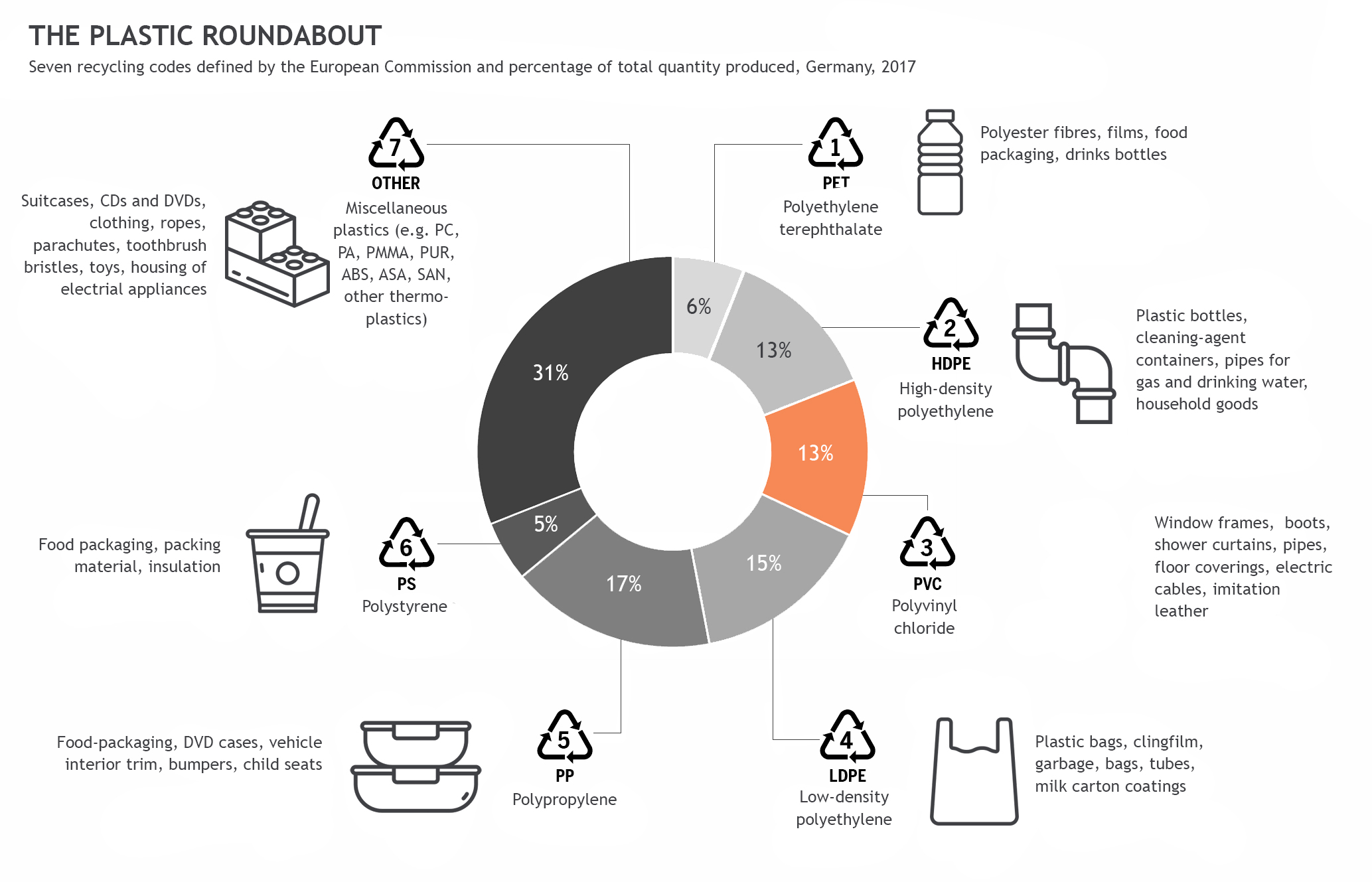 Own representation according to: PLASTIKATLAS | Appenzeller/Hecher/Sack (M),
CC BY 4.0
Plastic production according to use
Use of plastics in construction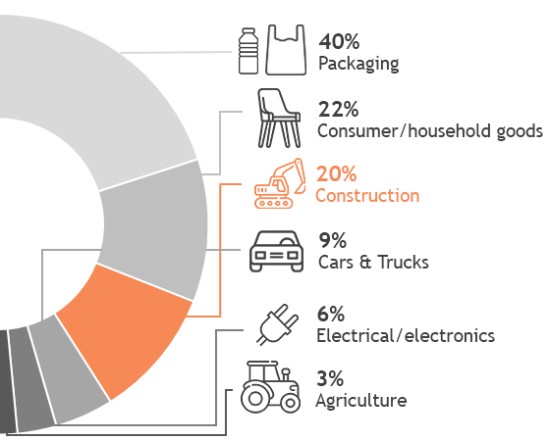 Own illustration according to: Plastic Waste and Recycling in the EU: Facts and Figures, European Parliament, 2021
The construction industry accounts for 20 percent of EU-wide plastic production. PVC products are used here, for example, in the form of pipes, floor coverings or in profile production for window and door frames.
Within the VEKA Group we have been relying on PVC as a suitable material for the construction and building sector since 1969. For example, we not only manufacture our window profiles from PVC, but also our VEKAPLAN sheets as well as the decking solutions, fences and railings of VEKA Outdoor Living Products.
Why does VEKA choose PVC as a suitable material?
The reasons are not only the long lifespan of this material, but also its very good insulating properties and good energy efficiency. In addition, the very good recyclability contributes to the excellent environmental balance of PVC building products. Plastics in the building industry can therefore definitely be used sustainably.
Good reasons for PVC in the construction industry
Why are PVC products sustainable in construction?
1. Long lifespan
As already explained, not all plastics are the same. This is also reflected in the lifespan: some plastic products are used for decades. For example, plastic products in the building sector, such as window and door profiles. They have by far the longest lifetime. At the end of their lifespan, they are professionally dismantled and fed into a tried and tested recycling circle enabling circular economy.
Packaging and consumer goods, on the other hand, are only used for a very short time and at the same time still account for the largest share of plastic production.
Own illustration according to: PLASTIKATLAS | Appenzeller/Hecher/Sack (M),
CC BY 4.0
2. Excellent insulating properties & energy efficiency
Poorly insulated windows are anything but sustainable. Although windows usually make up a maximum of ten percent of the building facade, up to 45 percent of the precious heat is lost through them. With the installation of new, highly insulating plastic windows, the demand for heating energy can be significantly reduced - and with it CO2 emissions.
Plastic windows are also sustainable, because they cause no environmental pollution when in use. They are extremely weather-resistant and, unlike wooden windows for example, do not need to be painted. They are also very easy to clean. Clear water is usually sufficient to remove dirt.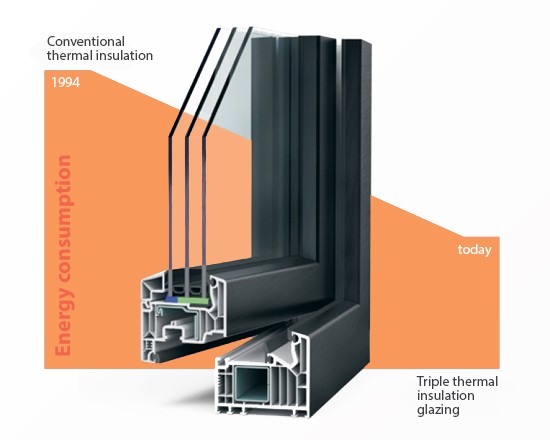 Energy saving through modern triple thermal insulation glazing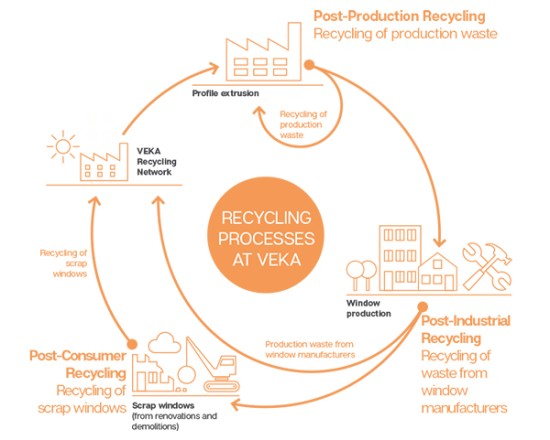 3. Very good recyclability
One of the main components of the European "Green Deal" is the promotion of the circular economy, i.e. a system that does not consume resources and does not generate waste. The PVC-U window industry is setting a good example here.
Thanks to the very good recyclability of our PVC products, we can not only avoid incineration waste, but also save fresh material in profile production. In this way, we can ultimately save resources and emissions.
Our plastic products can already be recycled almost completely and without any loss of quality. As a pioneer of such a closed-loop recycling system, VEKA founded the subsidiary VEKA Recycling back in 1993. In the meantime, we have exported our successful recycling concept to England and France. Every year, the Recycling Division sustainably recycles more than 100,000 tonnes of old windows, doors, roller shutters and profile sections made of plastic across all locations.
Three dimensions for calculation
For us, it's not just about the recyclable material PVC per se, because we think holistically and take all aspects of sustainability into account. For this reason, sustainability at VEKA encompasses not only the area of ecology, but also the areas of economy and society. In line with this, our global CSR management has defined three core dimensions of CSR: Environment, People and Company.
Currently, we are making these three CSR dimensions measurable with various GRI-compatible indicators. Because only through measurement and calculation can we determine reliable KPIs (Key Performance Indicators) that allow us to accurately record the impact of our actions.
The central goal of our CSR management is to gain transparency and define potential for improvement as well as to identify and replicate aspects of global best practice.