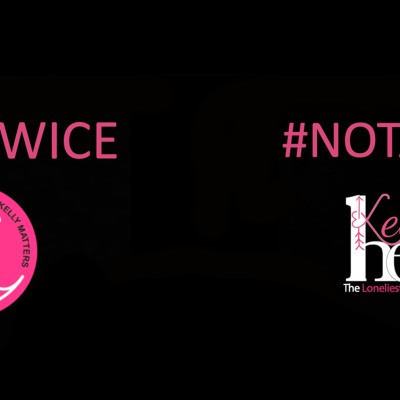 The Loneliest Road - Kellys Heroes
Mental Health and suicide prevention
VEKA engages in international mental health and suicide prevention campaign: The Loneliest Road.
As a value-driven family-owned company, we are aware of our responsibility to our employees, our business partners and the important issues in society. This understanding drives our vision "We care | we act | we grow".
We strive to live this every day and accordingly, we announce support and events for one of our cherished projects. In our daily lives, particularly in the business world, mental health and suicide prevention remain subjects that are rarely discussed or addressed. However, especially today, external stress factors alone place high burdens on each individual and we feel these topics are more important than ever. This year, the VEKA Group is creating greater awareness for this crucial topic with targeted events for our employees.
"We Mind and Kelly Matters"
"Many of us have friends, co-workers or family members that struggle with depression and mental health issues," says Joe Peilert, president of VEKA North America. "Living through the COVID pandemic has been particularly difficult for many individuals. As a business and employer in our community, we want to communicate that we care, it is okay not to be okay, and talk about it."
Inspiration for these events began with the British charity "We Mind and Kelly Matters". Founder John Hewitt, a former VEKA fabrication partner, lost his daughter, Kelly, to suicide in 2018. With his wife, Rachel, and daughter, Amy, he founded the organization to help both sufferers and loved ones in the fight against mental illness.
The Loneliest Road: Kelly's heroes bike ride
Expanding upon a 2020 UK bike tour for mental health awareness, the Loneliest Road tour covers both Europe and North America. Also the VEKA headquarter in Germany as well as European subsidiaries are engaged in this campaign. The European tour begins on Septeber 10, World Suicide Prevention Day. The American tour starts on September 24, in New Jersey. It follows US Route 50, designated as "The Loneliest Road in America," and ends in San Francisco on October 10, World Mental Health Day.
52,000 miles by bike
Kelly's Heroes' goal for the Loneliest Road tour is to bike 52,000 miles, the equivalent of biking around the world twice, symbolizing that with mental health, for an honest answer, you should always ask twice to see if someone is okay. It is John Hewitt's wish that all monetary donations raised in support of the American ride go towards local U.S. charity programs, to generate awareness and support as part of an ongoing, global effort.
This year VEKA is the main sponsor
In 2022, VEKA is the main sponsor on both continents.
VEKA Inc is currently asking its partners to join them in sponsoring this event. One hundred percent of tax-deductible contributions will be allocated across the U.S. to participating chapters of The American Foundation for Suicide Prevention. The U.S. team of riders will cover their individual costs as contributions, while VEKA North America will handle all administrative costs for each event planned, to guarantee that 100 percent of donations go to the charities.
VEKA North American employees will join the effort by contributing their mileage from a stationary bike, standard bike, run, walk or swim in a competition between plants. The goal is to be the first to reach 3,343 miles, the distance that riders will cover in the U.S.
VEKA hopes the Kelly's Heroes bike ride generates a high level of media attention for suicide prevention, through various channels before and during the rides. VEKA will champion its efforts through events, social media, local, international and industry press.
Learn more about VEKA Inc on the Website: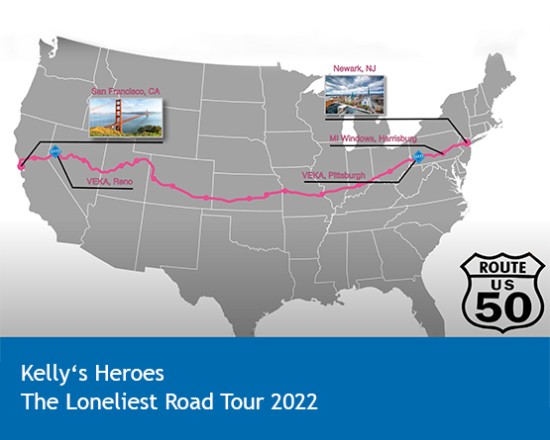 The loneliest road tour through the US covers a total distance of 3,343 miles.