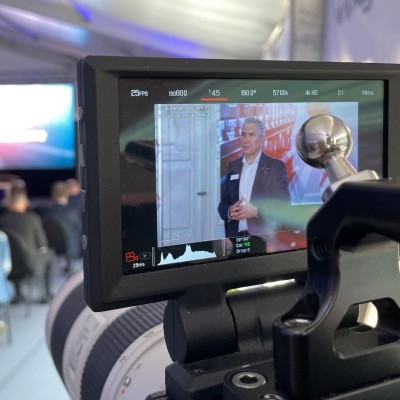 International Future Forum 2022
GEALAN hybrid event presents window market of the future
Two event days with a total of twelve specialist talks in ten languages, staged for GEALAN partners from all over Europe, who either attended in person or tuned in virtually: The International Future Forum 2022, held in a hybrid format for the first time ever, highlighted new products, trends and digital solutions for the window industry. More than 700 participants joined in live either via online stream or in the event tents at the GEALAN headquarters in Oberkotzau, Germany.
Eleven experts gave the trade audience an understanding of a wide range of industry trends in a competent, authentic way at the continuation of GEALAN's successful event series. What's more, the talks and moderation at the International Future Forum 2022 took place in ten languages at the same time as they were simultaneously translated both for the audience on site and online guests as needed.
Ivica Maurović, Spokesperson of the Management Board at GEALAN, is extremely satisfied with the event's premiere in this format: "We made a huge effort to enable all our customers and business partners to attend the International Future Forum 2022. After all, all of our partners are very important to us. With the event in a new, hybrid format, we've successfully opened doors to our entire industry, offering flexible access to our top topics to everyone interested."
Two event days structured into four focus areas
On the two event days, Ivica Maurović greeted the international audience with personal words of anticipation each morning: "Even if the fair halls remained empty during the challenging times of the COVID-19 pandemic, development at GEALAN did anything but stand still. We really look forward to offering you insight into the future of the window industry over the next few hours, with current trends and our latest product solutions and developments."
The following presentations were summarized into focus areas: On the first day, Dr Constantin Greiner, construction industry expert from consultancy firm Munich Strategy, kicked off the "Strategies and insights" area with his keynote. His helpful outlook into the future challenges and opportunities in the industry: What will become and remain important for window manufacturing companies and how window manufacturers in Europe can put themselves in a future-proof position for success.
New products presented
The majority of the first day of the event focused on "Products and technologies". To give the trade audience on site realistic impressions, the event tents were outfitted with detailed exhibits of all products and system solutions. Our product experts presented GEALAN-KONTUR, a newly developed premium design system with aluminium option, for the first time ever at the International Future Forum 2022.
The product developers also announced GEALAN-COMFORT, a floor-level threshold for barrier-free construction from GEALAN, set to be launched soon. In the other specialist talks in this area, guests not only learned more about new GEALAN products, but also about the special features and developments of proven systems and technologies: A session titled "GEALAN-acrylcolor: The PMMA surface sets new accents" described how even a technology that has proven itself for more than 40 years can still be innovative and keep up with the current trends, also presenting three new trend colours.
The presentation of new methods in STV dry bonding and wet bonding showed that standard processes can continuously be adapted to new requirements and improved. With a view of GEALAN-LINEAR, an all-round design system in the 74 mm segment, as well as GEALAN-KUBUS, the first-class all-glass system, a consistent focus was placed on visually modern, linear and highly functional PVC profile systems.
Trending topics of sustainability and digitalization
The second day of the International Future Forum focused on the hot topics of sustainability and digitalization. To start, Charlotte Röber, Managing Director of EPPA, explained the European sustainability policies regarding PVC profiles and the Green Deal. Today, the building sector accounts for 40% of energy consumption in Europe, with the EU aiming for climate neutrality by 2050. But how? "Save sources – use recycled materials," because, as Charlotte Röber explained, in 2019 carbon emissions were reduced by approximately 726,000 tonnes by using recycled materials instead of virgin materials alone.
GEALAN Head of Research & Development Dr Michel Sieffert explained how GEALAN saves not only carbon but also valuable energy by relying on recycled materials, its own recycling plants, more efficient machines and streamlined transport and logistics processes.
GEALAN's digital products and services were presented as part of the second focus area of the day. Smart products for ventilation and window automation not only enable maximum energy efficiency, but also provide for convenience and a healthy indoor climate. This was presented on the stage of the International Future Forum based on an example of active ventilation system GEALAN-CAIRE smart, whose sensors automatically check the room air quality. In addition, it can conveniently be connected to a smart home system. As for smart homes, the recently launched brand TEXINO offers a new range of products, opening up possibilities to connect with other associations and manufacturers beyond windows.
The hybrid event was rounded off by a presentation of GEALAN's digital services along the entire value chain: As impressively showcased, GEALAN, from sales to planning all the way to aftersales, can support and simplify the entire process from window sketches to maintenance of installed elements with state-of-the-art digital solutions.
Tours, practical tips and international topics
National market-specific presentations were the perfect complement to the GEALAN event: Colleagues from the Netherlands presented their System S 9000 NL reno, optimized for renovations, that enables existing window frames to be built over effortlessly and sustainably in just a few steps, bringing the window system up to modern standards.
The Spanish presentation focused on sustainability. Among other things, the colleagues explained how different GEALAN systems can be used in many different ways to reliably meet low-energy building standards.
Tours at the two German locations of Oberkotzau and Tanna rounded off the International Future Forum 2022. Guests were able to get an impression of the GEALAN Technical Centre and the company's digitalized in-house toolmaking on site.
Finally, demonstrations on objects and systems combined theory with practice: At the Technical Centre, visitors to the event experienced how PVC profiles are processed and repaired, how different GEALAN-CAIRE ventilation solutions work in detail and what benefits different bonding techniques offer for pane replacement.
GEALAN Managing Director Ivica Maurović was very satisfied with the hybrid premiere of the event, making a promise: "We saw that the International Future Forum format was very well received by all parties. This encourages us to continue with the series in future, following new ideas and introducing topics that offer our partners true added value."
Learn more about GEALAN on the website:
From left: Karl Dietrich Wellsow, Managing Director Digital Building Solutions, and Özkan Arslan, Head of Digital Planning GEALAN, presented the advantages of digital solutions for window planning - and beyond.