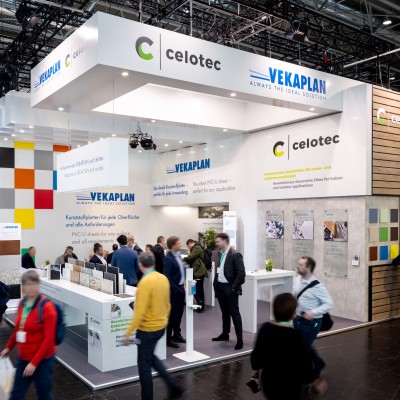 VEKAPLAN and celotec with numerous innovations
VEKA is known as the world market leader for window systems with plastic profiles of the highest quality. But plastic products from the VEKA Group cover a much wider range of technologies and applications. VEKA demonstrated this at "K" in Düsseldorf, the world's most important trade fair for the plastics and rubber industry, with a joint presentation of VEKAPLAN sheet systems and the surfaces of its sister company celotec.
In view of the excellent mood among the 3,037 exhibitors, the world's leading trade fair drew a positive balance at the end: from October 19 - 26, 2022, no less than 176,000 trade visitors from all continents gathered in the Düsseldorf exhibition halls for K 2022. The joint booth E67 in Hall 8B, which, by the way, was constructed from the particularly versatile VEKAPLAN S integral skin foam sheet, attracted many visitors who gladly took advantage of the opportunity for direct exchange in personal discussions.
VEKAPLAN presents new design sheets
Numerous application examples and samples provided an overview of the entire range of the extensive VEKAPLAN rigid PVC sheet program: The sheets are ideally suited for printing in digital as well as screen printing processes and offer unlimited design freedom in processing - whether printing, sawing, drilling, milling or thermal forming. They are used, among other things, in boat and ship building and in the caravan industry, in vehicle interiors, including ambulances, in wet and clean room areas, as well as in furniture, trade show and store construction.
Special attention was paid to the latest innovation in the program: VEKAPLAN Design. The sheets are available in three different designs: VEKAPLAN Design-mineral has a mineral coating and offers a wide variety of haptics and designs from concrete to mosaic. VEKAPLAN Design-print uses digital printing to open up almost limitless possibilities for wood decors, stone decors and solid colors with a 3-D material haptic corresponding to the decor.
The prints are also scratch-resistant and chemical-resistant - and thus clearly stand out from simple advertising printing.
VEKAPLAN Design-decor is perfectly suited for the combination with foiled profiles due to its lamination with various wood and color decors, but also for use as a universal decorative sheet. All VEKAPLAN Design panels can be processed in all ways as usual and are suitable for the sophisticated design of high-quality living spaces. Most decors are also suitable for wet areas.
Learn more about VEKAPLAN on the website:
High-tech surfaces from celotec
The still young VEKA sister company celotec has its origins in the development of its own surface technology for window and door profiles. Among other things, electron beam-curing lacquer systems are used in the finishing of SPECTRAL films. In the meantime, the particularly robust design surfaces are offered in attractive colors as well as in wood, stone and metal decors and are used, for example, for facades and garage doors.
celotec presented a variety of new surfaces at the trade fair. The focus here was on celobon surfaces for interior use, which are used for flooring, furniture and wall and ceiling cladding. Depending on the area of application, special product configurations with different properties are offered, for example flooring surfaces that are particularly robust against abrasion. Furniture surfaces, on the other hand, must have higher chemical resistance. The combinations of different base films, radiation-curing coating systems and embossed structures always result in new surfaces with individual properties.
Read more about our sister company celotec on the website: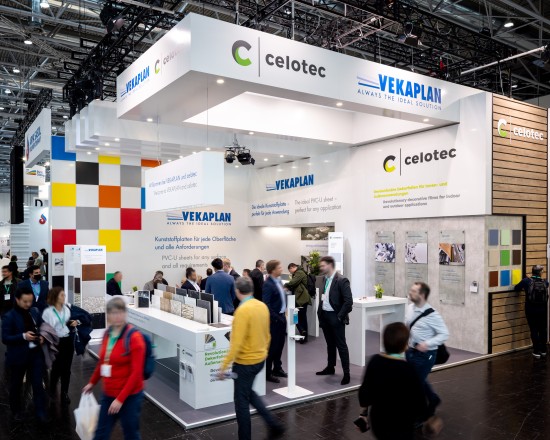 The innovations in the fields of sheet systems and surface technologies attracted many visitors to the joint booth of VEKAPLAN and celotec.