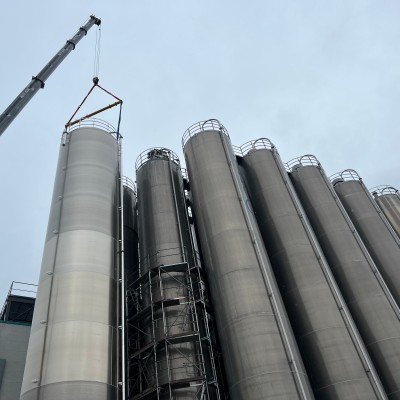 Recycled material in PVC profiles is steadily increasing
GEALAN site in Tanna gets additional silo
Heavy equipment was recently used at the GEALAN production and logistics site in Tanna: with two cranes, a new silo was erected at the site entrance, visible from afar. The container, which weighs around seven tonnes, was delivered the night before by heavy transport.
In the future, Rewindo material, i.e. PVC granulate from old windows, will be stored in the additional silo. After the PVC windows have been shredded, this so-called post-consumer material will be reprocessed for further use and then returned to the recyclable material cycle at the GEALAN profile extrusion as a recycling core.
With this, GEALAN underscores its ambitions to further increase the recycling shares within its PVC profiles. In 2022, about 33 percent of the PVC used at GEALAN was recycled material - and the trend is rising. The efforts to save unnecessary raw materials and ever-increasing amounts of CO2 are part of GEALAN's sustainability strategy. The company is thus uncompromisingly following the path taken by the European Commission in the "Green Deal" presented in 2019: The aspirations anchored in it envisage Europe becoming the first climate-neutral continent by 2050.
Figures about the new GEALAN silo
The new GEALAN silo is also the largest of the containers in Tanna: with a height of 23.75 m, it is exactly as tall as the silos next to it, but at 4.20 m it has a larger diameter than the other containers (3.50 m in diameter). In future, the 277 cubic metres of new storage volume will hold around 175 tonnes of recycled PVC granulate. Thanks to the new silo, many inconvenient transports of the required recycling material in so-called "big bags" can now be avoided.
Learn more about GEALAN on the website: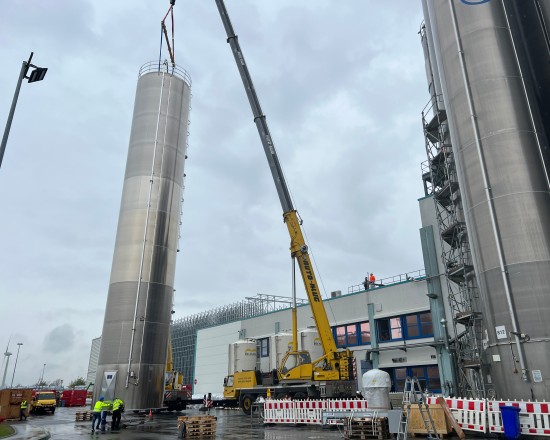 New silo at GEALAN production and logistics site Tanna, Germany.