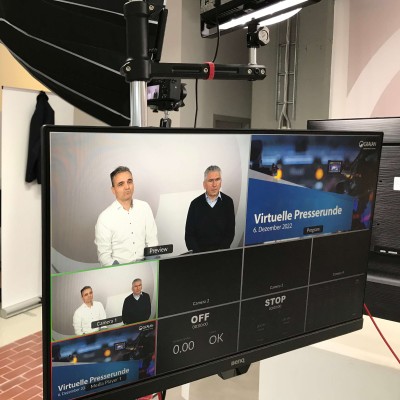 Systematic innovation even in challenging times
GEALAN continues to invest in innovation and infrastructure even in challenging times
Our subsidiary GEALAN Fenster-Systeme follows its vision and continues to grow and invest in the future of the company. Despite turbulent conditions due to COVID-19, the Ukraine war, cost explosions as well as volatile markets, record revenue can be predicted for 2022. In addition, GEALAN continues to invest in innovation and infrastructure even in challenging times. Another strategic pillar is defined as the sustainability of the company and its products.
Unpredictable general conditions with ever new barriers in 2022: After the Covid restrictions and scarce, thus expensive raw materials, the Ukraine war and further price and cost explosions presented the economy with unforeseen challenges at the beginning of the year. Nonetheless, the GEALAN group is on track for a new record revenue: after still turning over around 327 million euros in 2021, GEALAN is expecting a revenue increase of about 20% to around 390 million euros in 2022.
Two-part year 2022
In retrospect, GEALAN had to deal with a year divided into two parts: Until the middle of the year, there was an extremely high demand for GEALAN products, which could only be mastered with joint efforts across company divisions. In the second half of the year, demand dropped noticeably - driven by rising inflation and higher prices, and thus construction projects that were cancelled or postponed. "The overall situation at the end of 2022 is satisfying for us," emphasizes Ivica Maurović, spokesman for GEALAN's management, looking back on the past months. "However, we had to contend with major challenges that we were only able to overcome together with great commitment and flexibility. Our thanks go to our employees, as well as to all GEALAN partners and customers who helped."
The drop in demand was used efficiently in the summer to restock inventories, thus optimizing GEALAN's ability to deliver again after a difficult period. "Securing our ability to deliver was one of our most important issues in 2022," explains Tino Albert, managing director of technology and finance. "In the meantime, demand had become so high, that it was only possible for us to produce the ordered quantities with the greatest effort. However, also due to our solid financial basis, we were flexible and able to act here at all times."
GEALAN continues to invest and grow
Despite all the challenges, GEALAN has made or initiated further investments. In 2022 alone, a total of 25 million euros was invested across the group. The current lighthouse project is the fully automated high-bay warehouse at the Tanna site, in which more than 5,000 pallet storage spaces are being created and for which ground was broken in May 2022. GEALAN has invested around 5 million euros in this project this year, and will invest another 7 million euros in the new building in 2023. Also in Tanna, a new raw materials storage hall was put into operation in 2022. The new storage space became necessary as the volumes of external recycling material for GEALAN profiles continued to grow.
In Croatia, GEALAN doubled the storage space of the logistics there with a new hall. This step is also planned in France. In 2022, GEALAN invested around 5 million euros in new tooling systems, for example for the premium system GEALAN-KONTUR, available from the first quarter of 2023, including a possible GEALAN-acrylcolor surface (available from 2024).
Further investments were made for the SAP introduction in the GEALAN affiliated companies in Poland and Romania, in various digitalization (for example, new e-shop, new CRM system) and automation projects, as well as in a new double-sided laminating plant in Tanna.
In addition, the expansion of the in-house tool shop at the Oberkotzau site has now been completed: There, GEALAN has increased its capacity to manufacture new tools highly efficiently itself by 50% in recent months.
GEALAN is also planning further investments in the millions for 2023. The development of innovative systems including new tools for real premium products is just as much a part of this as key investments in the area of energy supply to enable the sites to heat independently of oil and gas prices. In total, GEALAN will invest around 23 million euros in the coming year.
Close to partners and customers even in difficult times
Looking back on the year 2022, it becomes clear that GEALAN was always close to its partners and customers, despite the one-time cancellation of its trade fair appearance at Fensterbau Frontale due to COVID-19. For two days at the beginning of June, the International Future Forum 2022 was the first hybrid event for guests from all over Europe - with almost 300 visitors in the event tents in Oberkotzau and around 500 participants who followed the exciting presentations in a total of ten languages via livestream. The big GEALAN industry meeting across national borders, where important industry topics and exciting product news get a big stage, is planned again for 2023.
GEALAN's calendar also includes the upcoming major trade fairs: participation in the BAU trade fair in Munich in April 2023 has already been decided, and a GEALAN appearance at the next Fensterbau Frontale in Nuremberg in March 2024 is also planned.
GEALAN 2022 was already highly visible starting in the spring: Here, a large international marketing campaign was launched with "We create the frame" - in text, photos and videos and a total of 19 languages, prepared for all of our target groups, to show the complete GEALAN portfolio of products and services.
The fact that GEALAN's Building Information Modeling data offering was once again able to convince the jury at the ARCHITECTS' DARLING Award 2022, and was named the best solution in the construction industry nationwide for the third time in a row, after 2020 and 2021, shows: GEALAN has also established itself as an absolute pioneer in the planning method of the future. And understood what its partners and customers need in their daily business.
In 2023, the GEALAN guiding principle remains the focus on customers and their needs. GEALAN not only wants to stay close to them, but to understand even better at which point in the supply and value chain it can provide targeted support.
By the people and for the people
With the award as LEADING EMPLOYER 2022, GEALAN can count itself among the TOP 1% of all employers in Germany. According to its website, the initiative selects all award-winning companies in an "independently conducted study based on several million metadata." Evaluated in the study would be "the big picture," as it says: "employee satisfaction, working conditions, understanding of values, job security, prosperity, HR expertise, image, environmental awareness and much more."
Outlook: Key topics are sustainability, recycling, carbon footprint
In 2018, GEALAN defined its current strategy and focused on four priorities: Employees, Growth, Innovation and Efficiency. From then on, this strategy and the corporate values practiced have provided stability and allowed GEALAN to evolve during this time. Despite many challenges, GEALAN has achieved its interim strategic goals. "Together with colleagues, with our partners, we analyze and identify new goals, new added values," reveals Ivica Maurović. "We remain true to our strategic priorities, but add the issue of sustainability, which is important not only for our industry, but as a basis for our survival on this planet." GEALAN has been working on its carbon footprint for years. The switch to 100% renewable energy for the power supply of the two German sites was a milestone in 2020. In the meantime, GEALAN is testing CO2-reduced polymer formulations: Together with partners, the company is investigating the possibility of extracting chalk from the ashes of Estonian oil shale. It is possible that the calcium carbonate it contains will soon be suitable as a component in PVC formulations. What is particularly exciting is that no CO2 is released to recover the substance - on the contrary, the process even has a negative CO2 balance. And could thus become a real milestone in the development of sustainable production processes. But GEALAN experts are also working with research partners on wood and biopolymers to analyze how raw materials could meaningfully and sustainably influence the production of PVC profiles. Since the end of the 90s, GEALAN has been thinking about recycling during product development. This applies to the design of new tools for profile production, to the production of the profiles themselves, but also when it comes to the recyclability of the end product. Thus, GEALAN products are designed sustainably throughout, from the first design sketch to the recyclable end product. An already considerable use of recycled materials in production saves large amounts of CO2: For every ton of recycled material used, that's about two tons of CO2. Specifically: In 2021, GEALAN used about 21,500 tons of recycled material, which means about 43,000 tons of CO2 saved compared to the use of virgin material.
GEALAN is a co-partner of REWINDO, the recycling initiative of German PVC profile manufacturers. As part of this initiative, GEALAN has committed to using recycled old window material in the inner core of GEALAN profiles. This has been obtained for more than 25 years in the completely closed recycling cycle of the window industry. In this way, PVC from old windows is reused in new, highly insulating window profiles in an ecologically sound way. In addition to old windows, GEALAN also brings 100% of its own production residues back into the highly efficient recycling cycle. Already around 33% of the PVC used at GEALAN in 2022 is recycled material - and the trend is rising.
Learn more about sustainability at GEALAN
"Ready to take the next step"
GEALAN has gained around 100 new employees in 2022. "Our workforce is very young for that of an industrial company," explains Tino Albert, "the average age at GEALAN is just 42. We can only create this attractiveness for young people if we can offer future-oriented jobs." New, modern office worlds are currently being built, the canteens at both German sites went into operation in 2021, and the apprentice workshop in Tanna is just as new.
GEALAN also supports its employees in difficult times with measures such as the payment of energy relief money or an inflation compensation bonus.
Output is also being refined: More and more higher-quality premium products are GEALAN's goal, as mentioned above. One example is the proven surface technology GEALAN-acrylcolor, which already protects and finishes about 30 percent of GEALAN profiles on the German market. In other markets, however, it still holds a lot of potential.
What will 2023 bring for GEALAN? Managing director Ivica Maurović is cautiously optimistic: "Next year will not be any easier. We anticipate a decline in sales of around 15 percent for our industry. But we at GEALAN have already prepared ourselves in recent years and are well positioned. Our goal: We aim to develop even better than the market! With all of our measures, with our colleagues behind us, our customers and partners by our side, we are ready to take the next step."
GEALAN has set out on the path to the future. Even in turbulent times, the PVC systems provider is unwaveringly following its vision and mission to evolve, grow and inspire people through innovative solutions. With the described investments in challenging times, GEALAN Fenster-Systeme also makes a clear commitment to the Oberkotzau and Tanna locations and shows the people in the region: We also create the frame here.
Learn more about GEALAN on the website: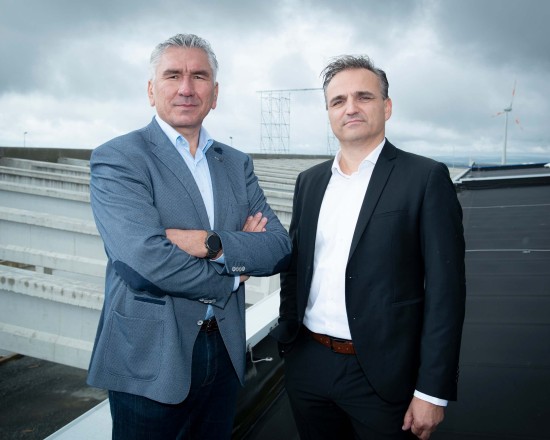 GEALAN is prepared for headwinds: The two managing directors Ivica Maurović and Tino Albert see their company well positioned for the future.